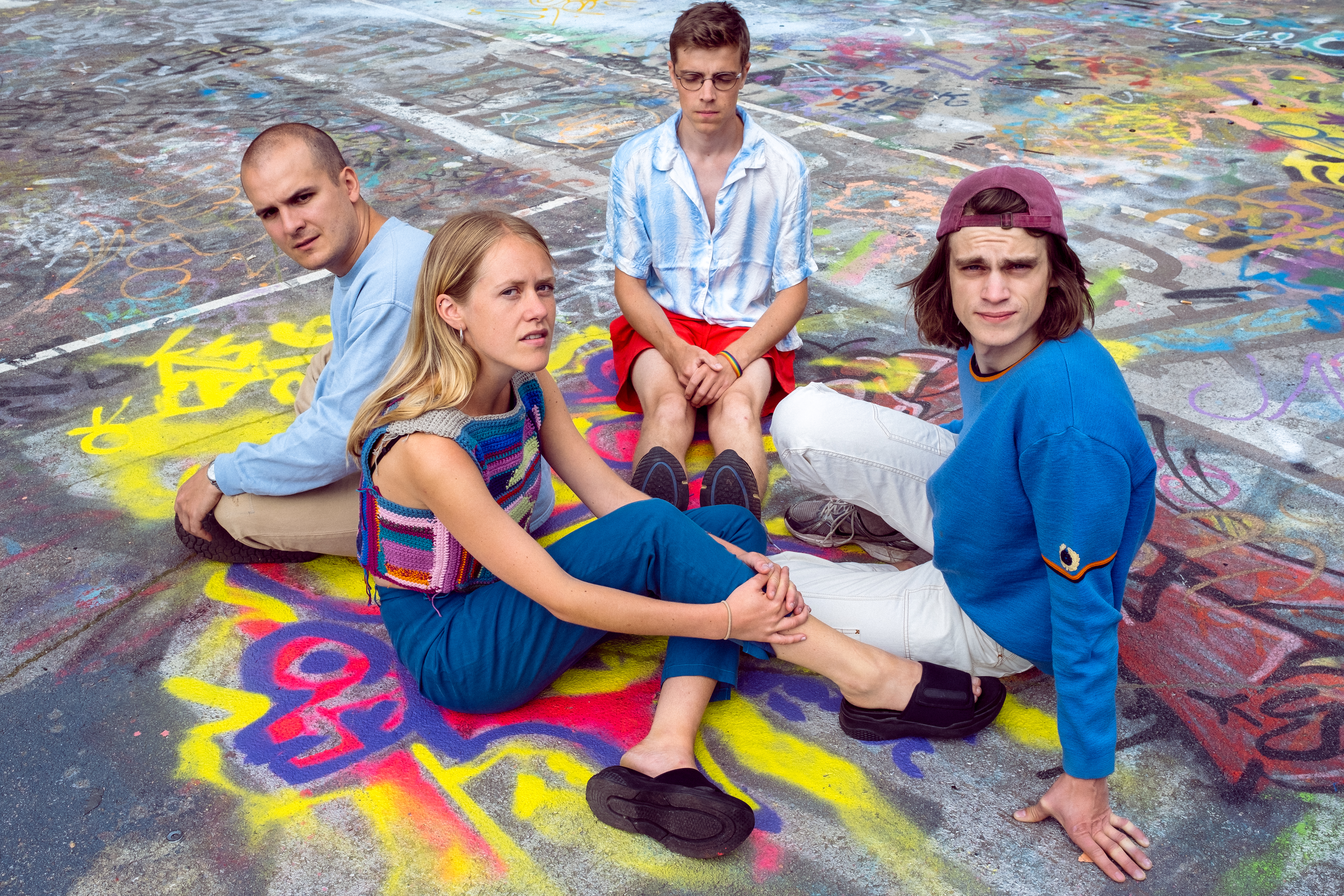 NORWEGIAN BAND POM POKO AT NOVA CVERNOVKA
The showcase festival SHARPE brings another young European musical talents to Slovakia. The Norwegian band Pom poko will come to Nova Cvernovka in Bratislava to show us their galvanic punk. Their gig will be supported by Slovak hardcore and experimental band Deti.
"If you have a vacancy for Favourite New Band, Pom Poko would like to apply for the role," tweeted Tim Burgess, lead singer of the Charlatans.
Pom poko took name and spirit from Japanese animation visionaries Studio Ghibli's marvellously out-there film about raccoon-dog rebels with unfeasibly large testicles. The sound of four distinct personalities driving in divergent directions towards one destination, the result is an evolved snapshot of the bracingly contrary chemistry forged when Fangel, Tonne, Jonas Krøvel (bass) and Ola Djupvik (drums) united to play punk during a jazz gig at a literature festival in Trondheim (the band-members studied jazz there).
Band Pom poko was praised NME, Interview Magazine, DIY, PopMatters, The Line Of Best Fit, The Independent and BBC Radio 6, where Miranda Sawyer was moved to note that Birthday's "Crazy Energy Night" seems to contain about 20 songs in one. Meanwhile, a huge touring schedule included countless sold-out headline shows and a rapturously received UK jaunt with Ezra Furman.
The Explore project is organized by the SHARPE festival in cooperation with Nova Cvernovka and the Liveurope platform – the first pan-European initiative to support European concert venues & artists. The Liveurope project is co-financed by the Creative Europe program of the European Union.
More info:
FB EVENT POM POKO / DETI
Pom Poko – Like a Lady
Pom Poko – Leg Day
Pom Poko – Cheater Full Album Stream
Pom Poko Cheater Review
POM POKO – BANDCAMP
—————
SK: Showcaseový festival SHARPE prináša na Slovensko ďalšie mladé európske hudobné talenty. Nórska skupina Pom poko príde už tento štvrtok do Novej Cvernovky v Bratislave, aby predviedla svoj galvanický punk. Predkapelou Pom poko bude slovenská hardcore a experimentálna skupina Deti.
V rámci projektu Explore prídu do Novej Cvernovky nórski Pom Poko a my sa nemôžeme tešiť viac! "Ak si hľadáte novú obľúbenú kapelu, Pom Poko sa o túto rolu môže spokojne uchádzať," napísal o Pom Poko Tim Burgess, bristký hudobník a frontman The Charlatans. A my súhlasíme.
POM POKO (NO)
Nórski Pom Poko spájajú jazzové vzdelanie a experimentálne sklony do sladko výbušnej kombinácie – noisy but sugar coated. Inšpirovaní math rockom, post-punkom, západoafrickou hudbou a popovými skupinami ako Deerhoof, Pom Poko predstavili svoj divoký štýl v roku 2019 s debutom Birthday, po ktorom kontrast medzi svojimi precíznymi kompozíciami a osviežujúco chaotickými vystúpeniami ešte umocnili albumom Cheater v roku 2021.
Pom poko prevzali meno podľa úžasného japonského animovaného filmu štúdia Ghibli's o rebeloch – medvedíkoch čistotných.
Supina za svoju existenciu zožala chválu od magazínov ako Clash, DIY, The Independent, Interview Magazine, zatiaľ čo NME ich v roku 2018 zaradilo medzi "100 Bands to Watch".
DETI (SK)
DETI prichádzajú z tmavých uličiek Bratislavskej DIY stoky, aby vypustili svoje rýchle úderné sety. Kombinácia minimalistických fuzz riffov s trvrdou basou bez zbytočného sólovania, prezentuje garážový špinavý minimal s vizuálnou osciláciou 90tych rokov.
Projekt Explore organizuje festival SHARPE v spolupráci s Novou Cvernovkou a platformou Liveurope – prvá celoeurópska iniciatíva na podporu koncertných venues v ich úsilí o propagáciu začínajúcich európskych umelcov. Projekt Liveurope je spolufinancovaný programom Európskej únie Kreatívna Európa.