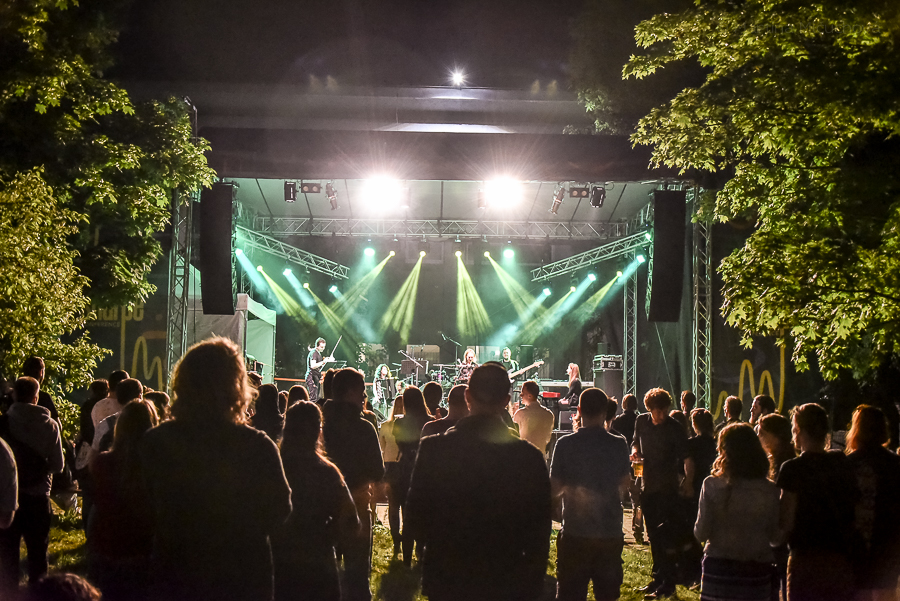 DISCOVER FRESH MUSIC FROM EUROPE AND BEYOND. SHARPE IS KICKING OFF THIS WEEK
Over 40 acts will be spread across six stages including open-air performances or "unplugged" sessions this week at Nova Cvernovka, a former chemistry school in Bratislava. SHARPE festival will again combine public performances with a music industry conference. The first entirely cashless music event in Slovakia is about to kick off on Friday!
SHARPE that recently completed the full festival lineup now releases the detailed concert schedule. 
Friday's selection of Slovak acts will be covered by Catastrofy, Walter Schnitzelsson, Herzog Herzog or FVLCRVM live. A clash of musical elements from Curaçao and modern electronic music will be delivered by KUENTA, industrial techno punk by Bristol-based Scalping and electro-pop by an Italian producer Giungla and more.
Saturday opens with an open-air performance of Slovakia's burgeoning musical talents Ostrov Hudby Live and continues with the acts of local artists such as Katarzia & Pjoni, nvmeri, Sisa Fehér or Möbius.  The international lineup includes a Polish psych-rock Sub Pop signees Trupa Trupa, a "rural" electronic vocalist MounQup and an increasingly popular Czech "space altruistic" psychedelic band Bert & Friends.
The music industry conference running on April 27th will again feature the series of panels, lectures and workshops addressing the latest music industry issues and strategies. A listening session with music industry professionals (Drowned in Sound, The Quietus etc.), intense artist management workshop led by the founder and former manager of Pink Floyd Peter Jenner, interactive lecture "How to make a festival in 60 minutes" by Pohoda Festival team, the topics of mental and physical health in the music business, environmental solutions, international PR strategy or music publishing and more. Check out the full conference programme.
We are looking for new ways to improve and provide an awesome experience to all music lovers at our festival. As the first music festival in Slovakia, we go entirely cashless. All you need to bring along is your payment card. This is meant to encourage attendees to spend more time and money enjoying the event, and less time standing in line or worrying about a bunch of cash in the pockets.
SHARPE festival will run April 26-27th at Nova Cvernovka, Bratislava. The music festival tickets for two days are currently 19€ and 15€ for one day (only available at doors). Pro Pass for both festival days and a conference is 29€. They are available online, exclusively at Tootoot.
Photo credits: Martina Mlčúchová